Thursday, November 5, 2009 at 6:00AM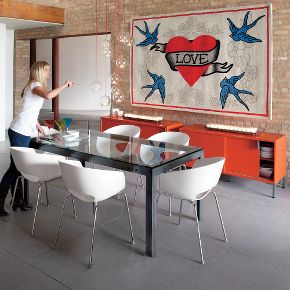 1. Forget matchy-matchy.
Tables and chairs that complement each other can be much more interesting than a dining set. When choosing a table with a raw, natural finish—like
rivet
or
engineer
—consider juxtaposing a sleek, very modern profile. The
orbit
chair is a great versatile option.
2. Go completely eclectic.
For a totally unique look it's always fun to do a variety of different dining chairs. This will definitely show your personality and each can be a conversation piece. Consider a running theme such as all white or all wood to help pull off the look.
3. Keep the scale of the table in mind.
If the chairs are too small or too big in proportion to the table, they could look uncomfortable or awkward.
4. Consider your personal lifestyle.
Choose a polypropylene or metal chair if you have children that spill since these materials clean up well.
5. Dining vs. Kitchen
Eat-in kitchens tend to be more casual while dining rooms tend to be more formal. For a more luxurious look, go for the upholstered joe chair. This chair also stands alone well on its own as an occasional chair.
6. Small Space Options
If your room is on the small side, or if storage space is an issue, try an extension table or stackable chairs like the slim chair.
7. Think outside the dining room and consider all possibilities.
Another great versatile option for dining chairs are stools. They can be pulled from the living room or kitchen and used as extra seating.
Tell us, what's your style? Your favorite mix?
Thanks to chris, store designer miami, for this submission.